Implementation and operation of self-service bicycles
Laval has launched within its territory a network of self-service bicycles.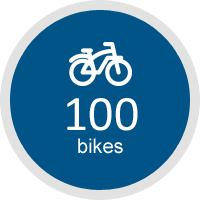 A desire to combine cycling and public transport
The service was commissioned in September 2010. In the same time our technical team was taking care of the installation of the self-service bicycle in Pau.
In 2016, the first Vélitul constract has been renewed. The new bike equipements are designed to meet the changes in the Laval urban community.
In 2017 the bikes will be transformed in ebike
The Vélitul historical bicycles will be transformed in ebike. Anyone who wish not to provide too many effort to ride the bicycle will have the possibility to rent a batterie and plug it in the bicycle.
This innovation would be very appreciated in Laval as the topography is kind of tedious.